The moving truck FINALLY came! It was such a long, drawn out process. I won't bore you with all the drama. But, it was quite frustrating actually...mostly for Michael, he's the one who had to deal with them, and he had to help unload it all since the "crew" that showed up was actually just the truck driver. There was definitely a point in this process where I was about 80% sure we would never see our stuff again. The moral of this story is....there are some things you don't try to save money on....clearly moving companies fall into this category.
So, we've got our bed (hallelujah!), Claire's crib, our couch, tv, fridge, AND the power cord to my sewing machine (which I've been almost as excited about getting as I have my bed). When we packed up in November I kept out two bins full of projects I intended to work on and my sewing machine...but somehow packed the power cord/foot pedal of my machine in a box that went with the moving truck. big bummer. Thankfully my mother in law was kind enough to let me borrow hers so I could finish up a few christmas presents and my mom let me borrow hers when I was visiting so I could finish a few projects there and hem my new maternity jeans. Yesterday I whipped up a little bubble skirt I've been wanting to make for awhile. I've got lots of ideas for Claire's spring wardroble so I'm excited to get started.
Speaking of maternity clothes, I must stop to say how much I love H&M. They actually understand that pregnant women still like to be fashionable but most can't afford to spend $60-80 for a shirt or $125 for a dress. And their maternity jeans?! genius. You know the little pull tabs with buttons inside the waist of little kids jeans? They put them inside the waist of their maternity jeans. I LOVE IT! The only maternity jeans I have ever worn that I'm not constantly pulling up. One of the highlights of our trip to NYC was going to the H&M there that carries the maternity line (unfortunately the St Louis stores don't carry it, the website said it wasn't at any of the stores in here in VA, and they don't sell it online in the US). So it was a
wonderful
surprise for me when I walked past the H&M at one of the local mall here and noticed the sign said they have maternity!!! YAY!
The real reason for the trip to the mall was letting the kids burn some energy at the indoor playground there. We went with a friend and her son. They just moved here from North Carolina to join the staff at the church as well. It's been so nice to have a friend in the same situation as we are. The mall had a great playground - Claire found a fire truck that she fell in love with and claimed as her own. Seriously, any kid that tried to climb on it she immediatly started trying to push them off of it. We're beginning to see what having an older brother does to a little girl! She has no problems standing up to 3 yr old boys who get in her way. We're working on being a lady. :)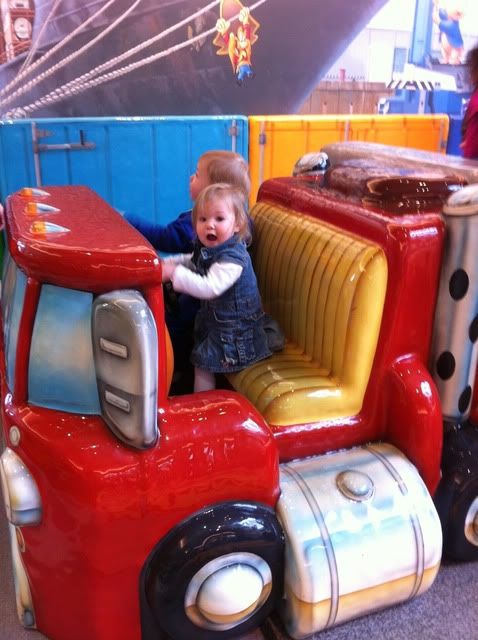 We've had a few playdates in the past couple weeks and it's been great! It's been so fun to meet families with little boys! We love our friends in St Louis and all their adorable little 3 yr old girls, but Michael was so excited to hear that Boden played with trains, garbage trucks, and firetrucks last week rather than playing dress up in princess dresses! Everyone here has been so friendly and warm to us - we feel so blessed. God is really taking great care of us and helping us get connected with people right away.
The other day we burned some energy at Kangaroo Jac's - and indoor bounce house playground. The kids loved it. Claire was probably a bit young to really enjoy the bouncers, but she still had a blast running around and watching Boden.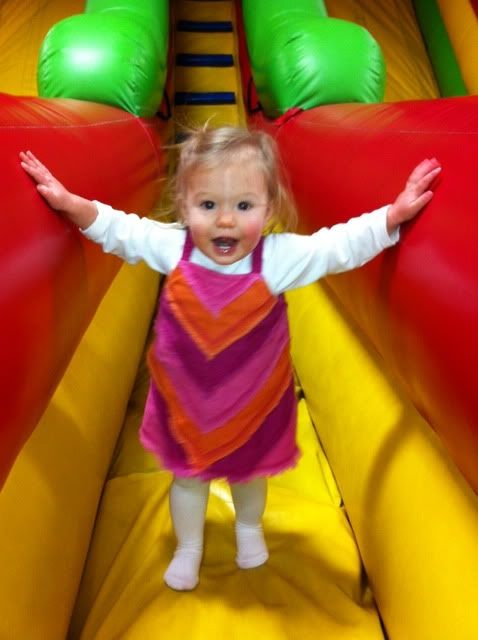 So, we've been keeping busy around here, but we've slowed down a bit the last two days - Claire has a cold. It started as just a runny nose, but as of today she's got a pretty rough cough, kinda sounds like croup and is coughing herself awake alot tonight. The YMCA has a prenatal yoga class once a week that I was really looking forward to going to tomorrow, but I'm guessing we will be staying home and keeping our germs to ourselves again. Hopefully next week.