Yep, Boden and Claire are going to have a little brother! And we are all so excited! This is probably old news to you if you saw my facebook status last week, but I thought I'd share it here too. I
finally
found a Dr (well, actually a Midwife) and was able to schedule an ultrasound. We've been waiting so patiently since we moved right in the time-frame when I would typically have had an ultrasound. But, our waiting ended last Thursday.
All 4 of us got to enjoy watching the little guy move around on the screen while the tech measured everything and checked to see that all was well. He's doing great! Everything measured perfectly on track for our May 17 due date. It was so amazing to watch him open and close his mouth and swallow, and watch his little heart beat. Isn't life amazing? God is so cool.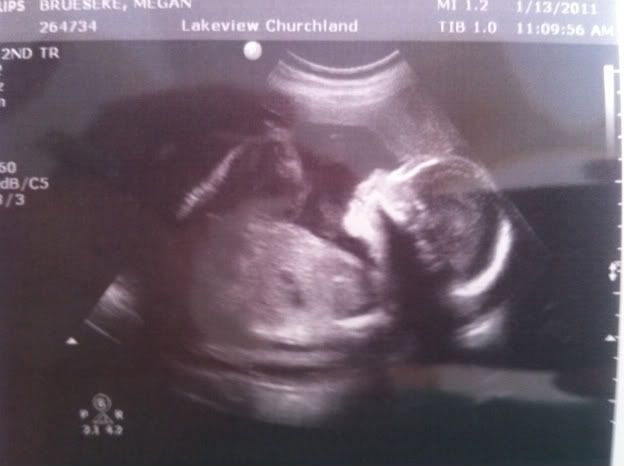 When she moved down towards the legs it was so apparent that this little one was a boy - he wasn't hiding anything! lol. Both Michael and I knew it right away without her even saying a thing. I had a feeling this little one was a boy - I'm not sure why, but I've caught myself referring to the baby as "he" rather often. And when discussing names, I couldn't even think of one girl name that I really liked. I had this same feeling when I was pregnant with Boden. With Claire, I didn't have a clue.
Boden got such a big smile on his face and said "I'm going to have a little brother!?!?" I'm so excited for him. And I just can't wait to see what Claire thinks about him when he arrives.
I couldn't be happier with our new midwife. I had originally planned to deliver at a birthing center I had read about online and had made appts there too, but when we toured and spoke to some of the midwives, it was obvious to me that it just wasn't the right place for us. Thankfully, just before we left Missouri, one of Michael's relatives gave me the contact information for this midwife. Her sister-in-law actually lives out here and she and several of her friends see her and love her. Turns out her office is less than 5 min from where we are staying now and the hospital she delivers at is really close too. And, I went to a playdate this past Monday and found out two of the moms have had babies with her and loved her as well. Thank you Lord! I was really discouraged after leaving the birthing center that night, but I knew that we had prayed a lot about where to have our baby and I realize that sometimes God has to shut one door so that we'll walk through the right one. I'm so thankful for His guidance in everything I do. And I'm so thankful for this precious new life!