*warning: prepare yourself for photo overload!*
I can't believe it, a whole month has already passed since Titus was born. It's been a busy 6 weeks with lots of family and visitors and learning and adjusting to being a family of 5.
Titus is a sweet baby and is so loved by his big sister and big brother. They always want to be near him, kissing him, talking to him and holding him. He loves to smile at them, and we love to see his toothless grin. Every one of those smiles is gold to me...a sharp contrast from the screaming. He has been a bit colicky, so evenings are a little rough around here and there isn't much sleep happening at night. But, hopefully that won't last too long and we'll all begin getting a little more rest soon.
He is definitely growing well...at 6 weeks he weighed 13lb 7oz and was 23.5 in long! He has gained 5 pounds since birth!
Bubbe & Zeyde (Michael's mom and stepdad) stayed for about a week after Titus was born. They were a huge help with the kids and with meals while I was resting and recovering. Then Grandpa and Grandma (Michael's dad and his wife) came for a few days. The kids loved having them here. They also made it possible for me to make it to church just one week after Titus was born....there was no way I could have made it out of the house with all 3 kids and have been dressed and presentable in public so soon!
Claire, Titus and Bubbe
The 4 Brueseke boys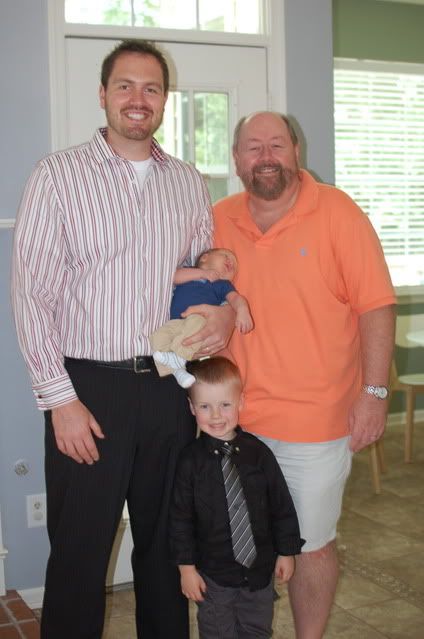 Claire and Grandpa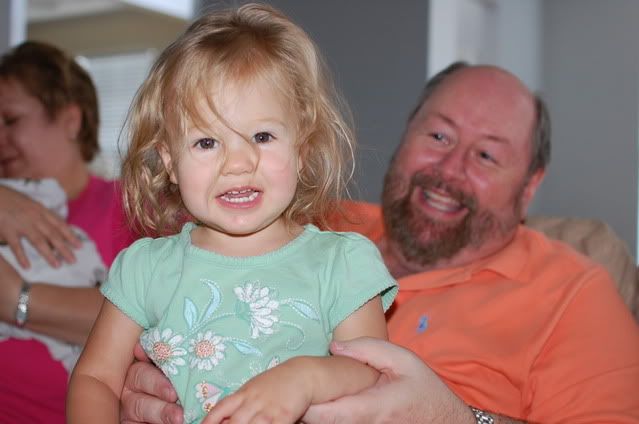 Then a few days later, Nana and Poppa (my parents) arrived. Poppa helped us out with some projects around the house - a new garbage disposal (yay!), some painting, a new bathroom vanity/sink, and started some grass growing in the back yard. And Nana helped out with the kids and the LAUNDRY...which I had been completely neglecting. We did have a little fun too - we took Titus on his first trip to the beach. Although, he didn't quite enjoy it like we had hoped...he pretty much cried the whole time. :(
After about a week, Poppa had to leave for a business trip, while Nana stayed another week and a half to help me adjust to life with 3 kiddos. I loved getting to spend this time with my mom and she was a huge help to me. I think she might have enjoyed spending time with her grandkids too :) Poppa then came back for a few more days before they made the long roadtrip back to to Nebraska.

It was so great having family here to help us through the first month. I was able to rest a lot, the kids got the extra attention they needed, and the house didn't fall apart....we are incredibly blessed and so, so thankful.
Nana and Titus
Claire helping Nana play Sudoku
Poppa meeting his newest Grandson
Brothers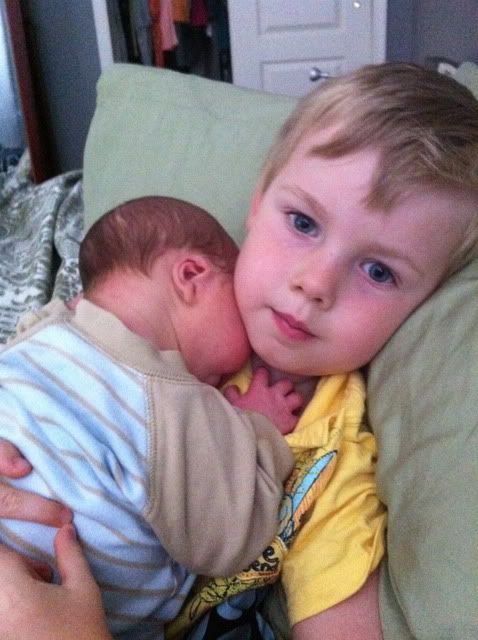 swimming
multi-tasking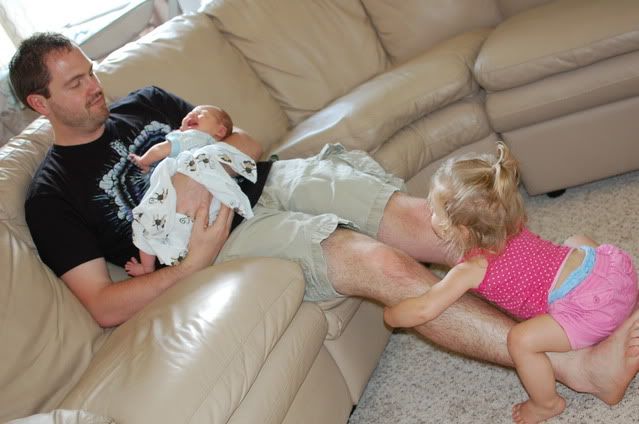 Mama and her boys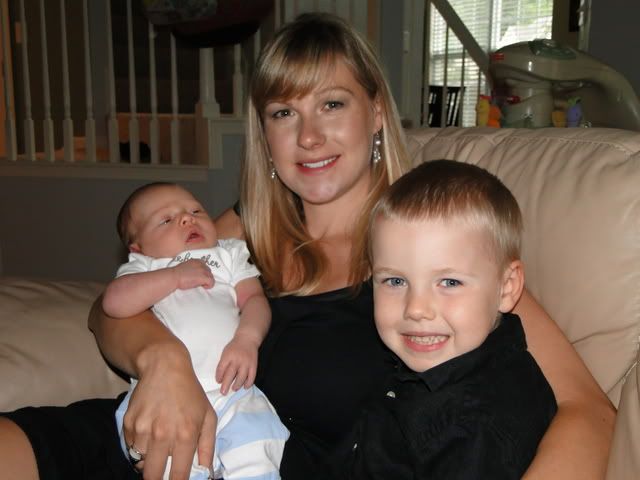 my parents brought my old guitar for Boden to play - he LOVES it!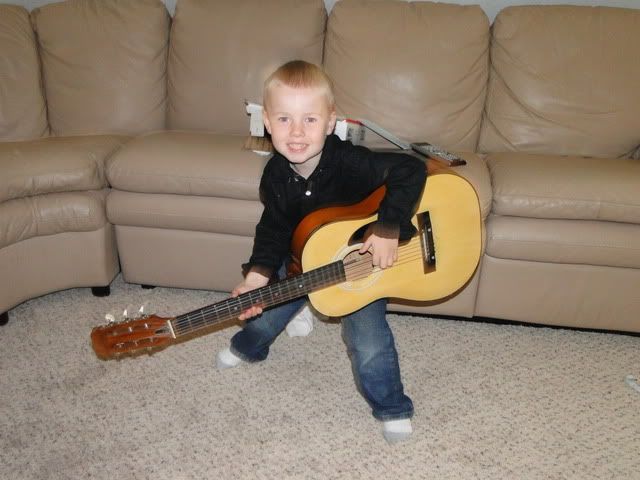 playing at the park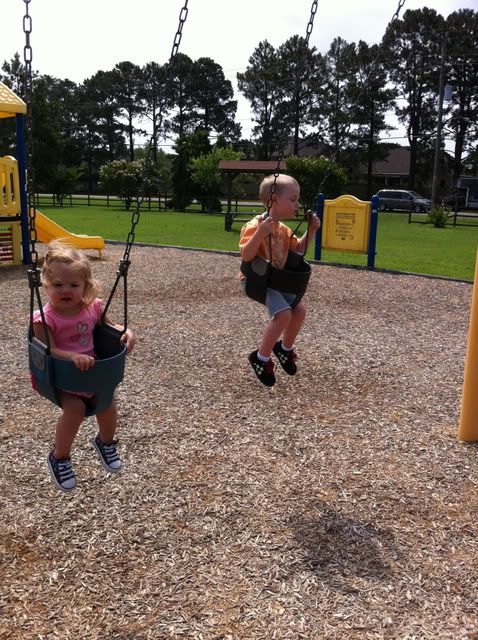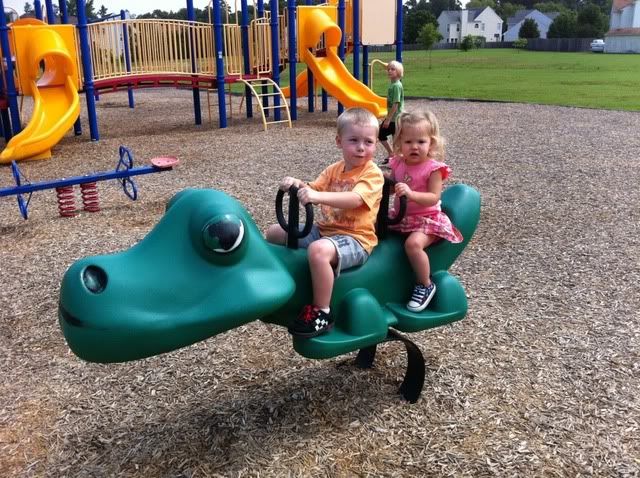 this is how moms lose the baby weight...we don't get to eat!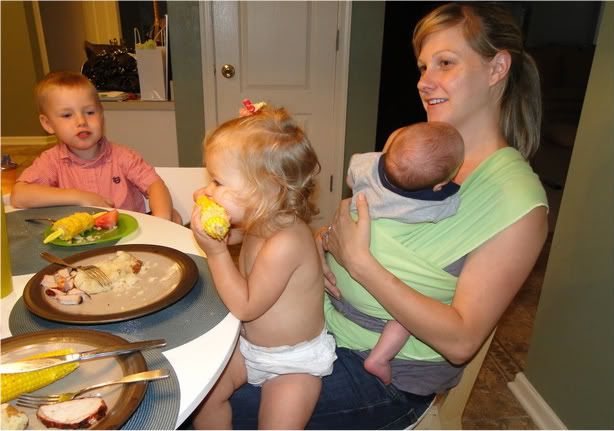 Daddy and his babies
Frozen Yogurt Bar
Bathtime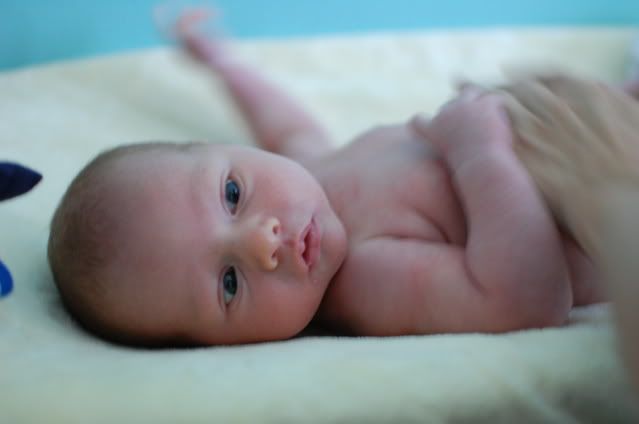 apparently Claire is more interested in texting than in the story book
a little chutes and ladders
Bubbles!
It's still so wild to me that we have 3 kids! They are such an amazing blessing. Thank you Lord!